Cathedrals are not just tourist destinations but places that can convey a sense of the spiritual and sacred, even to those who are not of the Christian faith
The Church of England is divided into 43 dioceses which are regional, geographical areas. Southwark Cathedral is the Mother Church of the Diocese of Southwark which stretches from Kingston-upon-Thames in the west to Thamesmead in the east and Gatwick Airport in the south.
As a Cathedral, it is the place where the Bishop has his Chair (cathedra) and where major celebrations of life and faith take place all the time.
The Cathedral is led by a Dean with five Residentiary Canons whose primary responsibility is to maintain the tradition of prayer and worship on this site which began in the 7th century. They work in and serve the diocese and support the Diocesan Bishop in his ministry.
A copy of our Constitution and Statutes can be found here
For further information on English Cathedrals please visit the Association of English Cathedrals website here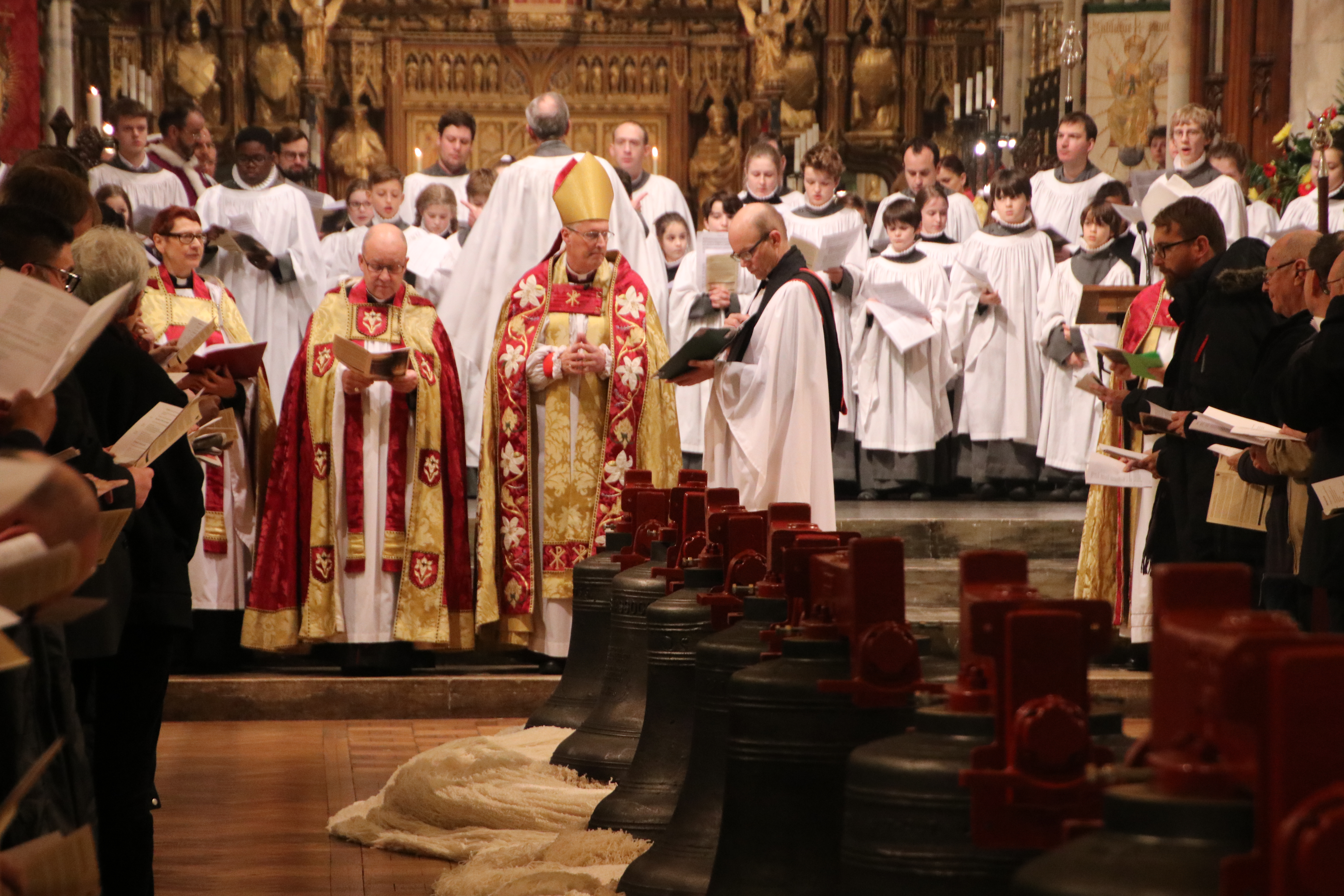 Cathedral Coat of Arms
When the Southwark Diocese was created in 1905, the College of Arms (the body responsible for granting coats of arms) granted arms consisting of the lozengy cross from the old Priory arms made up of eleven lozenges with a mitre in the first quarter.
In 1999 an official at the College of Arms pointed out that the coat of arms used by the Cathedral (whether with a cinquefoil or a rose) had never been registered and both versions were already used by two families (one by the Gurneys of Norfolk, ancestors of the prison reformer Elizabeth Fry).
So, in 2000 a grant was made to the Dean and Chapter of new arms. It has been designed to show its relationship to the diocese and the dedication of the Cathedral. The Cathedral arms has the cross lozengy from the diocesan arms, (but the number of lozenges is not specified) 'per pale counter-changed with a lily slipped in the first quarter', i.e. the shield is divided down the middle and the colours of the cross are gold on the red half and red on the gold half.
The cross stands for one half of the Cathedral's dedication that of St Saviour (another name for Christ) and the silver lily with a leaf ('slipped'} stands for the Virgin Mary.