Windows 30 - 32
30. George Gwilt Memorial roundels and fragment panel.
The two roundels of 19th Century foliage are all that remains of a memorial to the eminent architect and parishioner George Gwilt, d. 1856, whose tomb is in the churchyard just outside this window. A commemorative tablet in the Retrochoir states that Gwilt gratuitously superintended the complete restoration of the 'Ladye Chapel' (Retrochoir) in 1832.
Panel of Tudor fragments positioned in the centre of what was the Gwilt window.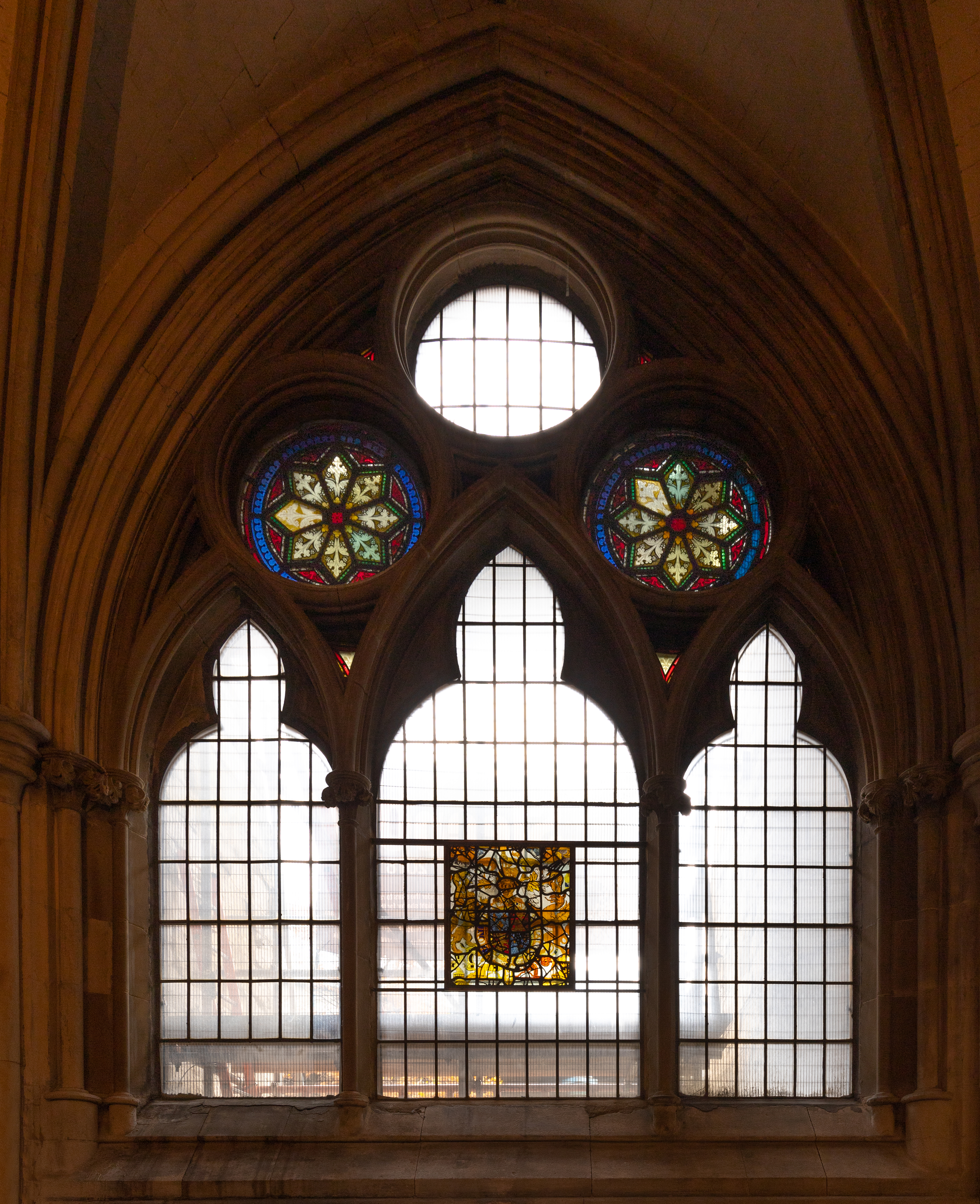 (no. 30) is a framed panel made up of medieval fragments.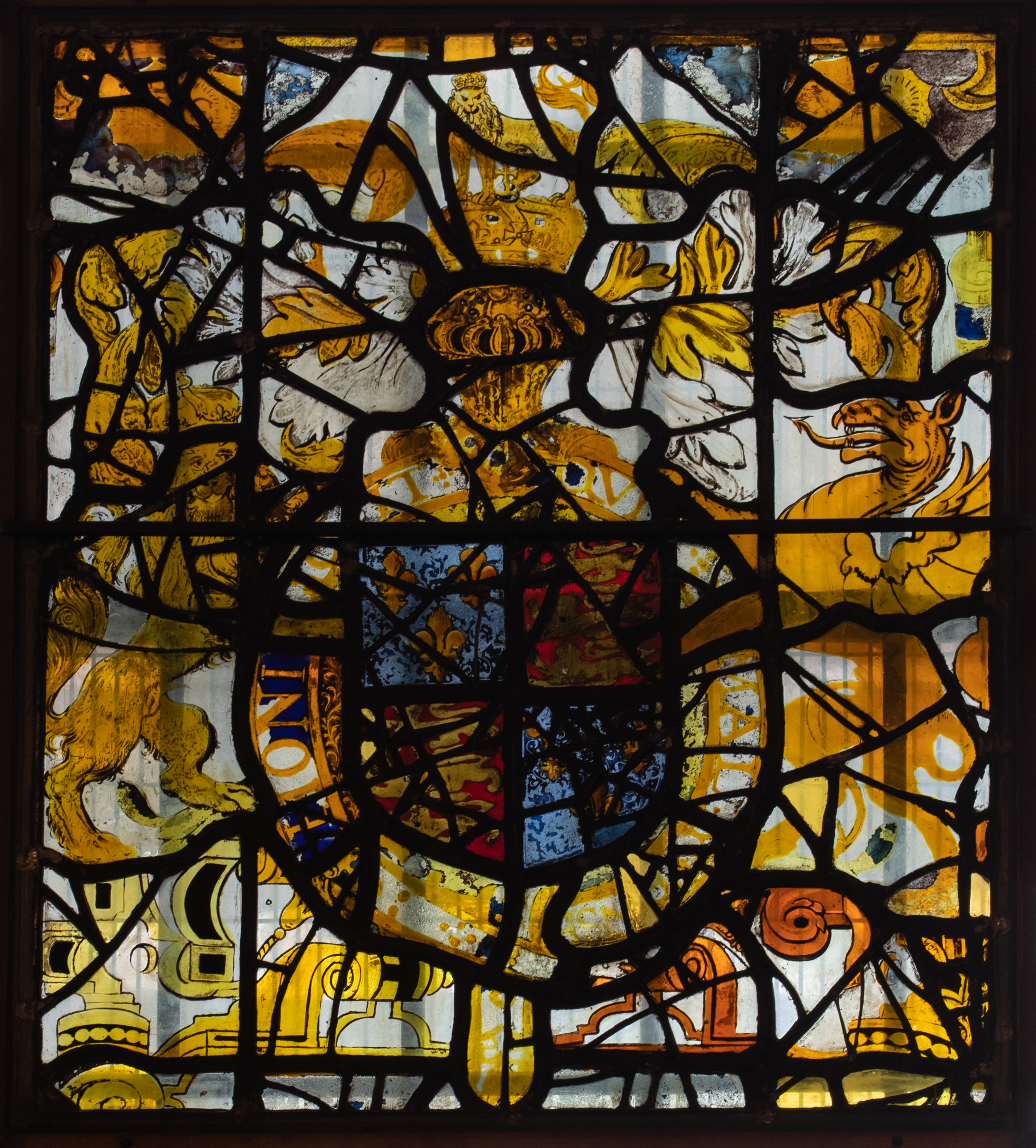 31. The Glaziers' Window.
The central figure in this single light window is St Andrew, patron saint of the Worshipful Company of Glaziers and Painters of Glass, ('The Glaziers' Company'), whose Livery Hall is in Montague Close just north of the Cathedral and who annually attend divine service here.
The sunshine above and furnace below are linked by the Company's heraldic motto 'O God Give us Thy Light'. The heraldic symbols appear of the other saints on whose days the Glaziers hold Court: St Paul top left, then clockwise, St Mark, St Peter and St Paul, and St Matthew.
Below St Andrew is the 'Glory Hole' or opening in the furnace used for melting glass, with blowing and gathering irons. The figure in the livery of the Master of the Glaziers' Company holds a sheet of handblown glass. On the left are the Company's arms. The Dutch postage stamp commemorates Maurits and Maise Mulder Canter, relatives of the benefactor.
Maker: Lawrence Lee, 1987. Lee's initials 'LL' are in the bottom right corner, with those of his assistants Christine Harrison and Loraine Marshall. Lee was Master of the Glaziers' Company in 1973-4.
Note: The pattern on the Saltire Cross held by St Andrew (Patron of Glaziers). These are 'grozing irons', once used to shape the sharp edges of glass pieces prepared for windows.
Presented by Stuart Lever (Master of the Glaziers' Company in 1992-3) and family, in memory of relatives Maurits and Maise Mulder Canter.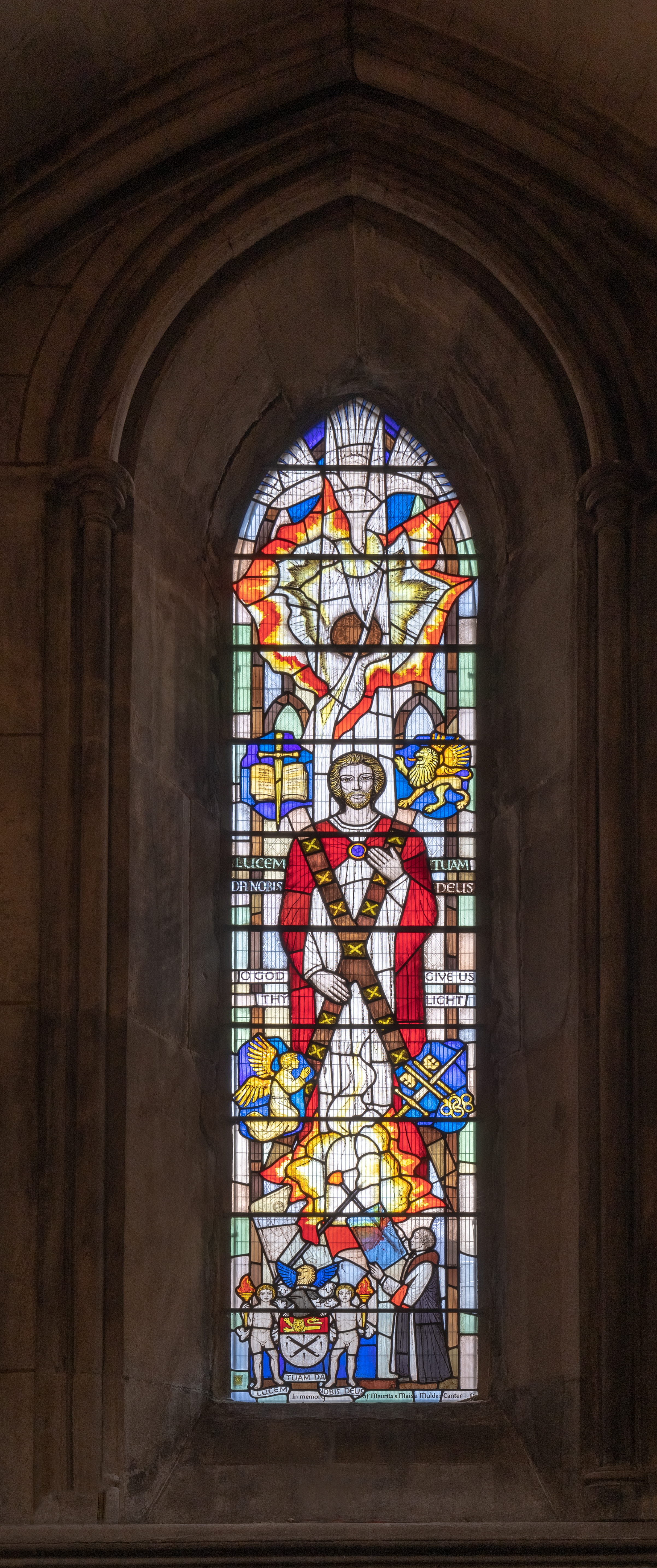 32. King David window – situated over South Door.
King David is depicted with his harp, accompanied by the Holy Family.
Maker: W.T.Carter Shapland, 1953. His mark, the letter 'S' on a stylised plough, reflecting his farming background, is in the bottom left corner.