40. The Shakespeare Window
This three-light window with tracery replaces one by Kempe commemorating William Shakespeare (1564 - 1616) and Edmund Spenser (1552 – 1599), another celebrated English poet. In 1954 a competition was held for a new three-light Shakespeare window to replace the previous Kempe window destroyed by enemy action. The winner was Christopher Webb (1886 – 1966).
William Shakespeare was St Saviour's best known parishioner. He wrote most of his 39 plays when he was connected with the Globe Theatre which stood about 400 yards West of the Cathedral.
The 1954 design uses the concept of the Jesse Tree. It takes as the root the Henry McCarthy 1911 memorial sculpture showing Shakespeare at rest in a Bankside meadow. Prospero in the central light forms the trunk, with Ariel above and Caliban at his feet (The Tempest).
Further figures from Shakespeare's plays can be found in the curling branches of the tree. The left light depicts characters from the comedies: Bottom, Puck and Titania (A Midsummer Night's Dream), Malvolio, Olivia and Maria (Twelfth Night), Falstaff (The Merry Wives of Windsor), Portia (The Merchant of Venice), Jacques and Touchstone (As You Like It). The right light shows characters from his tragedies: Romeo and Juliet, Richard II, Richard III, Othello, King Lear, Lady Macbeth and Hamlet.
Maker: Christopher Webb, 1954. Signed CHRISTOPHER WEBB ST ALBANS 1954 in the extreme bottom right corner (best seen with binoculars from the centre of the nave). This is his later maker's mark. His earlier mark is usually a St Christopher with his initials.
The window was unveiled by the famous actress Dame Sybil Thorndike.
Note: Along the base of the window the 'Seven Ages of Man' as described by Jacques in As You Like It.
In the tracery at the top you can see Shakespeare's shield of arms and a quotation from The Tempest.
To the right of the window is a memorial tablet to American director and actor Sam Wanamaker whose vision was the driving force behind the present day Shakespeare's Globe Theatre on Bankside.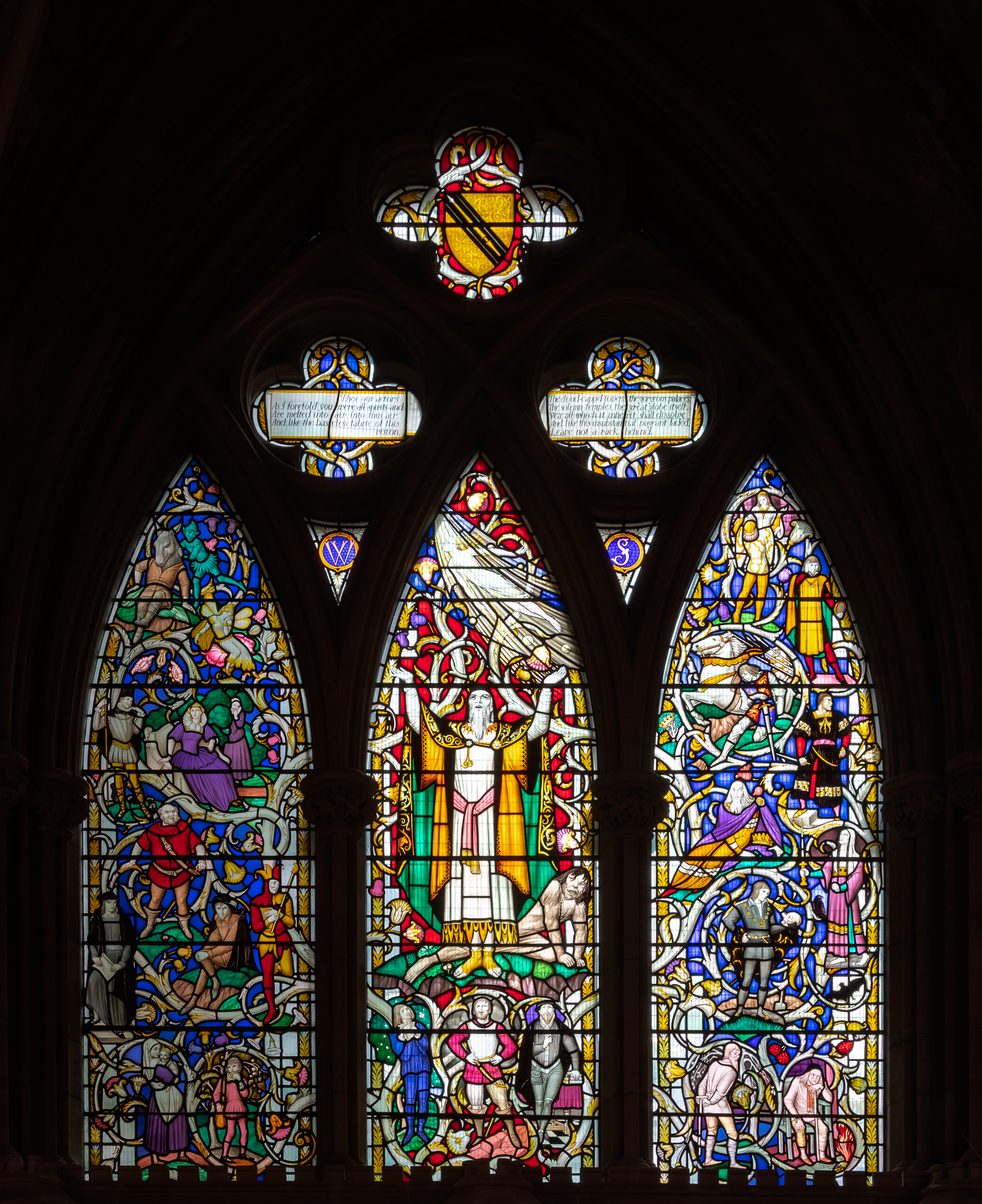 Shakespeare Window and Monument